Cost Effective Security Solutions from Securicall Systems
The wireless system is an on-line real-time battery powered access control system that uses radio frequency technology to communicate in real-time with the central computer.
The lock itself is intelligent and takes the decision to grant or deny access based on the users rights. The answer is immediate with no communication needed with the server or controllers, avoiding possible network problems and no emergency master key needed.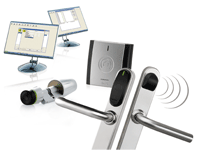 In case of network failure, access is granted through a Virtual Network technology without compromising security or the user's access rights.
The gateway is the link between the PC and the wireless network (repeaters or/and wireless escutcheons). It gives real-time information to the PC.
One gateway can manage several wireless escutcheons and several repeaters making the wireless structure very flexible.