More Information:
Securicall® Systems Limited
3 Palmerston Court
2-8 Palmerston Road
Sutton
Surrey
SM1 4QL

Telephone: 020 8643 4400

Company Registration No.:
7463062

VAT No.: 103 8182 41
Securicall® is a registered trade name
Alarms and Intruder Detection
Home Security Systems
Securicall supply, install and maintain a wide range of security systems suitable for homes of all sizes.
Small (e.g. two bedroom flat)
Single-Zone control unit connected via your existing telephone line to our 24-hour Alarm Receiving Centre. The system comprises of the following components:
Sound Detector - designed to trigger the alarm in the event of any attempted break-ins via windows or doors.

Movement Detector - designed to detect movement once entry into the protected area has been made.

Smoke Detector - conventional self-contained smoke detector linked into the alarm system via the sound detector channel.

Digital Communicator - transmits all alarms and trouble signals to our Alarm Receiving Centre.

Audio Verification - this option enables you to respond to an alarm remotely, verify the cause and automatically reset the system.
Medium (e.g. four bedroom house detached house)
Eight zone control unit with remote keypad, all zones programmable for part set, home set, etc. Audio verification and smoke detector link options are available with this unit.
Large (e.g. stately homes)
Window protection using wire-free sound and vibration detectors, together with internal movement detectors combine to provide alarm confirmation signalling in all areas. To ensure maximum protection while eliminating false alarm problems, the systems may be part set to apply protection to unoccupied areas only. This protection can be graded according to the risk. High security areas will retain alarm confirmation signalling and immediate Police response in accordance with the requirements of ENBS50131. Lower security areas may be designed to trigger local response only and a call for assistance from authorised personnel on site.
Tagging
Tagging of individual items, such as paintings or Faberge eggs can be discreetly carried out using Securicall's unique radio tagging system.
Control Equipment
The control equipment typically provides up to 136 zones of protection which may be programmed into eight areas. Each area can be allocated to one of four levels for ease of setting and unsetting.
To facilitate easy operation, the system may be set by individual levels or individual areas.
Systems would normally be connected by means of Redcare or Redcare GSM to our NACOSS approved central monitoring station. In addition to the monitoring of all alarms and fault conditions, our Service Department carry out diagnostic checks over the telephone and, where necessary, remove faulty items of equipment pending replacement. Where reprogramming of the system is necessary, this can also be carried out during the same process. This facility enables us to provide immediate technical back-up and frequently eliminate the need for an engineer to attend site.
Commercial Security Systems
Securicall have, over the last 10 years, carried out installations of commercial intruder alarms ranging from corner shops to cash centres.
Commercial premises in the medium to high risk bracket will invariably require some form of access control. This will help to prevent walk-in thefts during working hours when the intruder alarm system is switched off. Securicall have developed a range of systems which uniquely integrate access control with intruder alarm detection. By this means the intruder alarm will automatically unset when an authorised card is presented to a reader. No separate operation is required to switch off the alarm which eliminates the main cause of customer- generated alarms which occur when the system is being unset.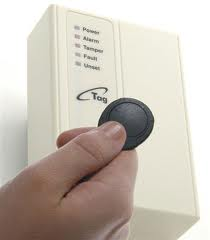 Systems which are integrated in this way allow any number of users to access the premises without formal instructions on the use of the alarm system. The functions of the access control which define the areas and times of access for each individual automatically control the intruder alarm without the need for any further operation.
No Training Time Necessary
In larger organisations, any number of personnel may be required to set and unset the system. By integrating this with the access control, however, no induction sessions are necessary for existing or new staff as no separate procedures are required to control the intruder alarm.
24 Hour Access
Where personnel are required to attend the protected premises outside normal working hours, their access control card will required to be programmed accordingly. When authorised entry is granted during the normal hours of protection, an "out-of-hours" time slot will generated and the system will be unset for this time, eg one hour. After this time, a 10 minute warning that the system will automatically set will be provided. Alternatively, protection may be reapplied manually as described above.
Remote monitoring - cost-effective ways of connecting your alarm
1. Speech dialler - this connects into your existing telephone line and enables up to three keyholders to be contacted in the event of the alarm being triggered. A recorded message identifies the premises and the type of alarm, e.g. Fire or Intruder.
2. Digital communicator - this also connects into your existing telephone line and transmits up to eight channels identifying separate events which may be used to identify individual areas of intrusion as detailed in Track ID.
3. Redcare Secure - this utilises a digital communicator together with Cellnet communication providing two distinct channels of communication to comply with PD6662 for Grade 2 or Grade 3 systems.
4. Redcare Classic - this system uses conventional Redcare technology, ie digital network superimposed onto your telephone line and is nowadays compatible with Broadband. Standard communicators transmit up to eight channels to the ARC providing a permanently monitored line between your premises and the ARC.
5. Redcare GSM - this uses Redcare technology as described above, together with cellnet system enabling two separate communication channels to be monitored and designed for the highest level of security, ie Grade 2 to 4 systems.
Contact us for a free quotation for your requirements.