Remote Monitoring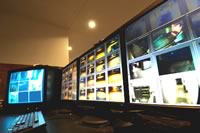 We believe that our CCTV design, integrated with appropriate detection devices, access control public address enables us to offer a significantly enhanced service to our customers.

CCTV cameras and alarm detection systems are placed strategically around your premises to give you protection from unwanted visitors.
Attempts to access your site will trigger an alarm. The system will activate the appropriate cameras, to relay the video images. At the same time the system automatically dials up our security monitoring centre and transmits the alarm signal and/or images.
These signals are received by our UK call centre and responded to within seconds by one of our dedicated operators. Trained to recognise and interpret events, the operator will action the most suitable response. This can vary from an audio warning, right through to calling the key holder or the emergency services.
Only by reporting validated alarm activation's can you ensure a fast and reliable response to site.